Redbourn Business Systems

iAM:Servers
A powerful systems and application monitoring and automation software
Designed to monitor, diagnose and alert for failure on system resources, operating systems and applications.
iAM:Servers alerts you to any problem, or even indication of a potential problem and takes the necessary automatic corrective action to make sure IT issues are resolved before they impact on the business they support.
IT is integral to your business performance, no email is sent, customer called or order taken without IT being involved. iAM:Servers monitor and maintain business critical services to ensure they are running at their optimum.
iAM:Servers monitoring solution covers hardware, core operating systems including Windows, Unix, Linux, iSeries and VMS and applications all under one unified platform.
Flexible, Multiple Criteria Alerting
The philosophy behind iAM:Servers is that alerting on one single criteria is far too simplistic and that multiple decision criteria is required to know when a problem really exists. It cuts out trivial alerts providing you with a clear and simple view of the problems having the most impact on your business.
iAM:Servers takes all of this information and intelligently understands the relationships between any combination of events. iAM:Servers displays the real world impact any problem is creating and where to focus your work.
Automation
Many fixes applied by your team often require the same easily repeatable actions. iAM:Series intelligence enables you to automate many of these fixes.
Benefits
iAM:Series enables you to envisage your systems relationships and quickly identify where the problem is. The priority levels enable you to improve reaction times and increase efficiencies.
Many fixes are automated, so only real problems are highlighted to your team, saving time and resources and fast problem resolution.
Key Benefits:
One solution for all your needs
Faster response times
Automated fixes
Unified teams
Lower management overhead
Only real problems highlighted
Service delivery view
Manager of Managers
Technical view
Every API on EVERY operating system
Reporting
Everything monitored by iAM:Servers can be reported on. It can deliver real time reporting providing useful insights for the business to help you understand how your systems are running. It can provide reports for long term capacity planning and trend analysis reports. These can be view in isolation or in conjunction with other data.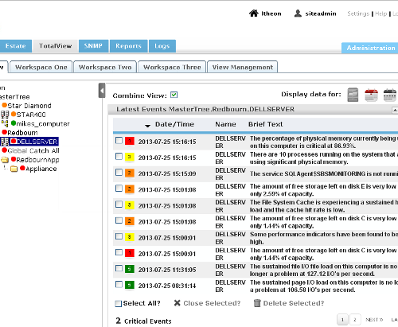 iAM:Servers Systems Monitoring Dashboard
To learn more about the benefits of using iAM:Servers to monitor your systems, talk to an expert on +44 (0)1582 794 229 or email us.
Redbourn Business Systems © 2020