Redbourn Business Systems

IBM i Services (midrange, AS400, iSeries, IBM Power SERVERS)
Redbourn Business Systems specialises in bespoke and packaged RPG and CA 2E (AllFusion 2E, Synon/2, Synon/2E, COOL 2E) database solutions for IBM Midrange servers for commercial and not-for-profit customers.

Redbourn develop bespoke applications for customers wishing to broaden the potential of their own in-house departments using IBM Midrange servers. Redbourn's expertise covers successfully completing business solutions as diverse as Sales Order Processing, Purchase Order Processing, Stock, Underwriting, Insurance, Membership, Conferences and Fundraising. We provide services including consultancy, support, hardware maintenance, disaster recovery and training services on the IBM i (Midrange, AS400, iSeries, IBM Power Servers).
If you'd like to discuss the benefits of using Redbourn Business Systems to manage your IBM i projects (Midrange, AS400, iSeries, IBM Power Servers) or to discuss our IBM i products and services, talk to an expert on +44 (0)1582 794 229 or email us.
Redbourn are experts in full-lifecycle management of IBM i (Midrange, AS400, iSeries, IBM Power Servers)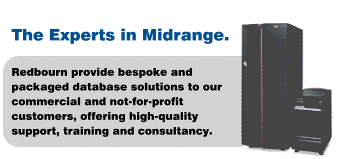 Redbourn Business Systems © 2020