Redbourn Business Systems
news
international i-power REVIEW
International i-POWER returns in 2020 to Wyboston Lakes, a venue that Redbourn has previously attended and exhibited at. In recent years the growth of the event has meant we were, at times, squeezed into the venue and it is refreshing to see the committee at i-UG has recognised this and sought alternative, larger, venues.
The event is held every June and is the main event of the year for the i-UG. It runs over two days, with the first day being focussed on education and technical workshops, and the second day focussed on presentations, both keynote and other informative sessions spread over different streams. Each stream combines presentations on a common theme, such as security. The education day is always well attended. Split into morning and afternoon workshops, delegates have a chance to learn new technical skills, or improve current skills and share knowledge and experience. Vendors run these sessions at a very low cost and delegates are encouraged to get "hands on" in a classroom environment. This learning is CPD recognised and several of the vendors offer certified training.
At the end of the first day delegates have a chance to socialise with a gala dinner and plenty of time to network and catch up with other delegates and make new friends.
The second day starts with a brief introduction to the sponsors. Each is given 20 seconds at most to speak and this lighthearted introduction has become an event in its own right. This is then followed by a keynote speaker; always a "big hitter" from IBM, like Steve Will, Chief Architect and Alison Butterill, Offering Manager. Delegates are then free to attend other presentations of their choice with a whole variety of topics covered but all on the IBMi theme. There are usually sessions that are customer real life stories, news and updates on products and services and further high-level education sessions, though not in as much detail as the "deep dive" sessions on the first day.
There is always time for coffee and a catered lunch where delegates can mingle with each other and the vendors in the exhibition hall. At the end of the second day everyone gets back together for a prize giving ceremony, with generous donations from each vendor on offer to the lucky delegates.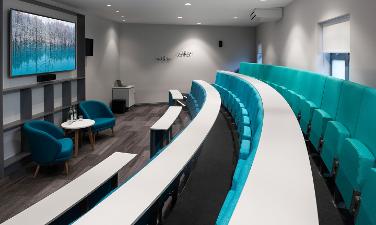 Redbourn Business Systems © 2019